I don't like to show off because I am from the West of Scotland where it is outlawed.
That's why you will always find my head below the parapet, my light under a bushel and my parade safely indoors away from potential rain. But in this newsletter I will bravely break my own mould to tell you about some exciting sales I've been enjoying. Also I want to invite you to two upcoming summer exhibitions which you may or may not be able to make depending on your map co-ordinates, local covid status, vaccination trajectory and wind speed.
Welcome to my merry May newsletter. I hope you are well and ready to be well-informed about my art.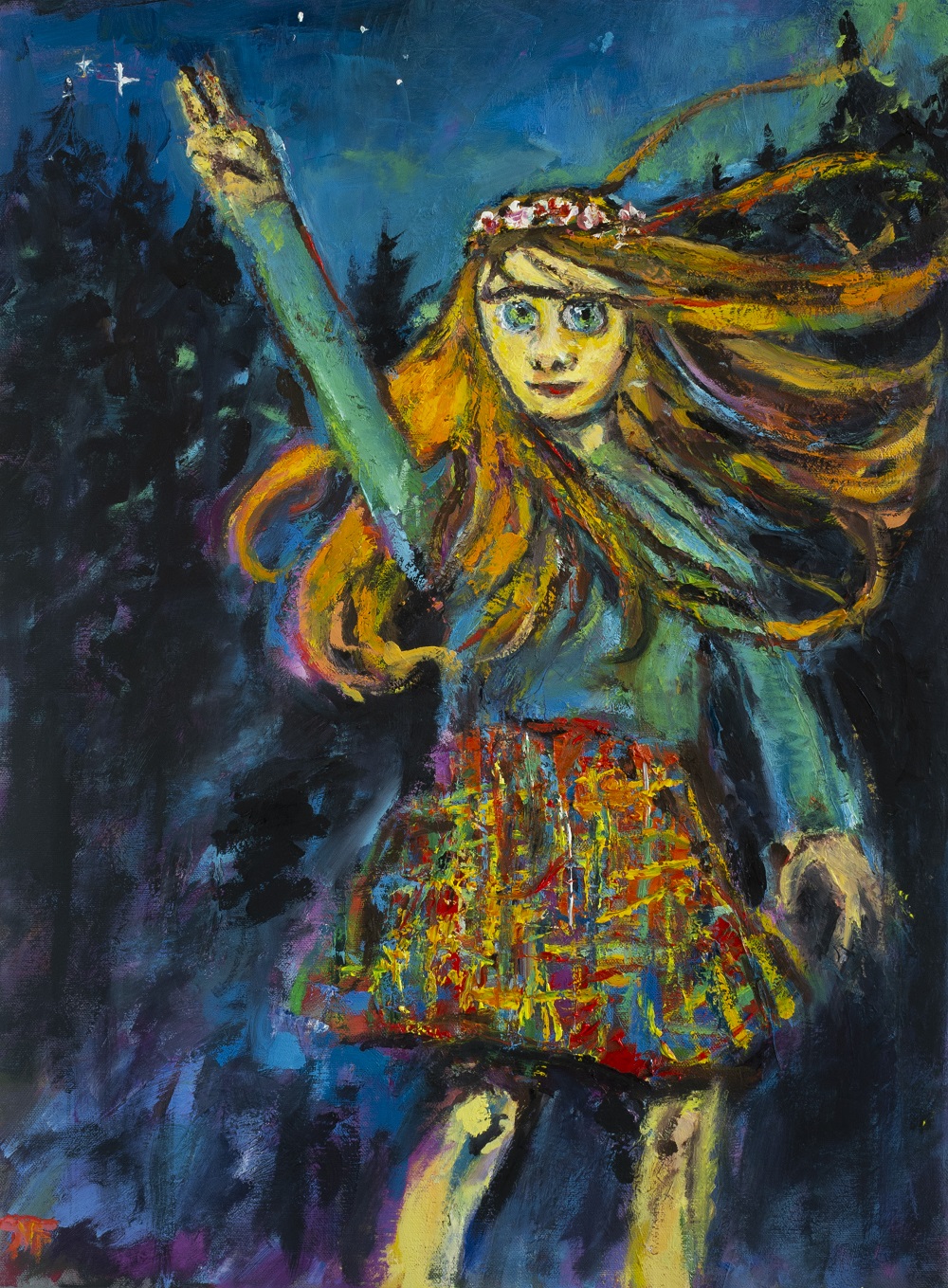 As it turns out, I'm learning that sales to an artist are as important as, well, sails are to a sailor. Van Gogh famously only achieved one in his lifetime but did you know that his life-affirming painting style was predicated on his realisation that modern Parisians only wanted bright pictures for their parlours?
What I'm getting at here is that there is no shame in us artists going after sales and you might say (BIG PERSONAL NEWS ALERT) it is our job.
With this in mind I have been working on some new paintings for my 'Children of Scotland' series, as many of the original class have sold from The Velvet Easel Gallery in Portobello.
Never as an angsty art student from Lanarkshire did I ever think that my work would find its niche on Lothian's leisure coast. But it has. Maybe I'll move there! Don't laugh or I won't invite you for a paddle and a Pimm's.
A painting of mine showing a girl wearing tartan, her hair blowing in the wind as she defiantly makes a peace sign, was put in the gallery window there and when it was it caught the eye of quite a few people. It sold, and then another painting sold. Then I was contacted about a commission. Then another customer said they would like something similar.
The result was a flurry of painting, the results of which are in this newsletter.
'Blowing in the Night' is the sister piece of my original painting. This time the girl stands in a cool, blue night and her hair is golden/red. I loved painting the light and shine on her hair as it gets whipped by the whirling Scottish wind.
Proud parent alert; I was probably inspired by my wee daughter who is only two but often stops traffic with her hair and gets cheers when she passes the local hairdressers. It was sold before it made it off the easel which I found very exciting.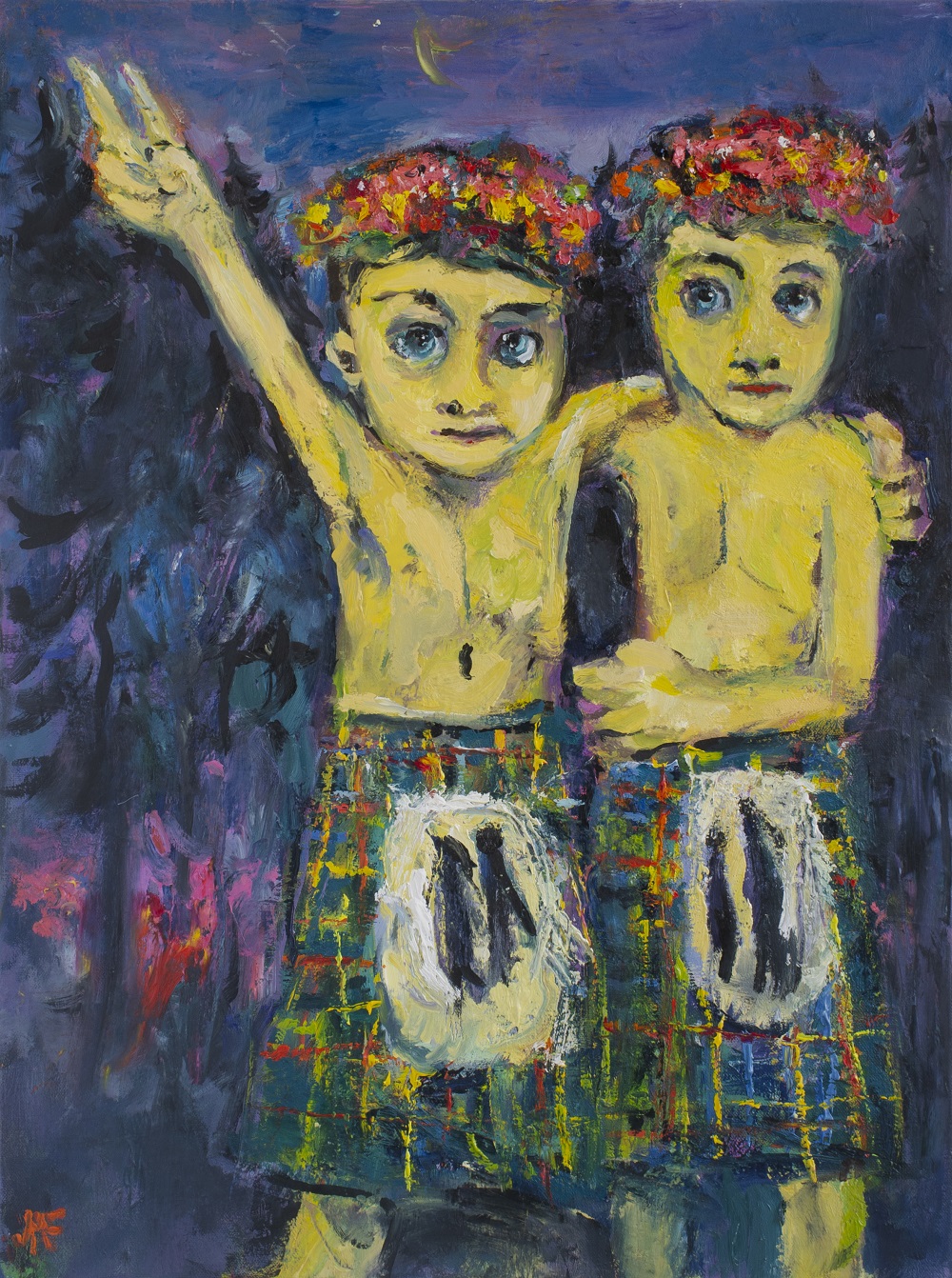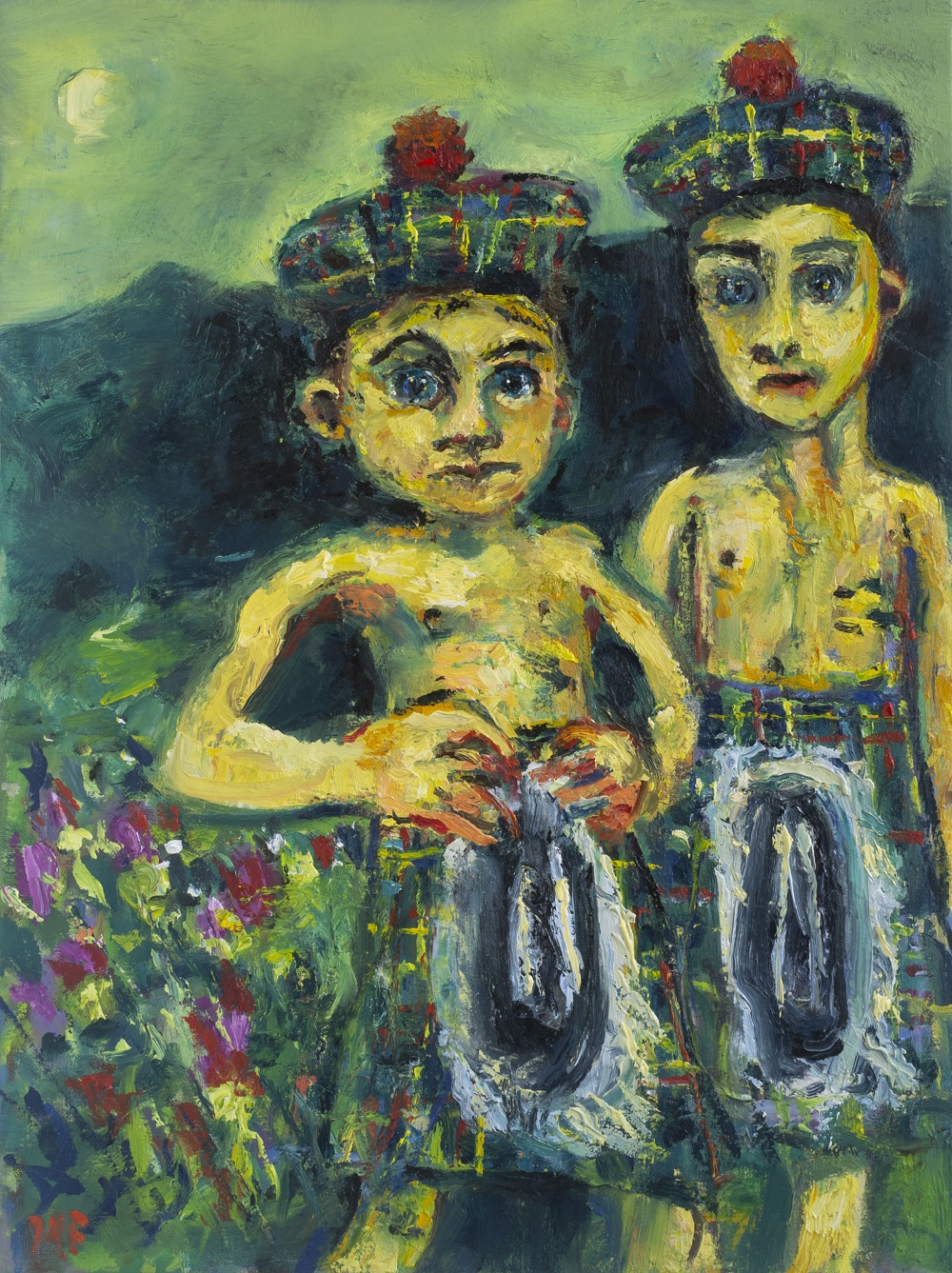 I was also thrilled to receive my first commission focused on this series of paintings, from the other land of the free that isn't Coatbridge – the USA!
My brief was to paint two boys wearing a specific tartan (Smith Modern, tartan fans) and my approach was to take it very seriously indeed. Even when painting for someone else I can't help but throw all my gusto, almost everything I have, at it before I am happy with the results.
I painted two paintings to make sure I didn't drop my basket with all my eggs in it and I really slogged it out with them both.  I sometimes wish my inner artist would find easier ways to finish paintings but he simply won't listen to reason or representations from the Scottish Artists' Union.
The saga, though, has the happiest of endings as I've recently found out both of the paintings of boys were sold as soon as they reached the gallery.
Along the way I also painted another in the series showing two girls (it's becoming one of those big families). It is currently showing at The Velvet Easel in Portobello and I hope it finds a home soon.
And so to the future and what is coming next. Depending on where you are and how easily you are able to navigate these easings, you may be interested in two upcoming shows my work can be seen in.
The first starts May 22nd at Gallery Q in Dundee
The second is the much anticipated Big Summer Show which starts  Friday 4th June at The Lemond Gallery (this one is like T in the Park for Scottish artists but in Bearsden in a gallery).
I'll get in touch again soon to give you all the details. But it won't count as showing off because I'll be doing it for the benefit of Scottish cultural sector which needs all the help it can get.
Thanks for reading and looking and I will see you very soon!
John Martin