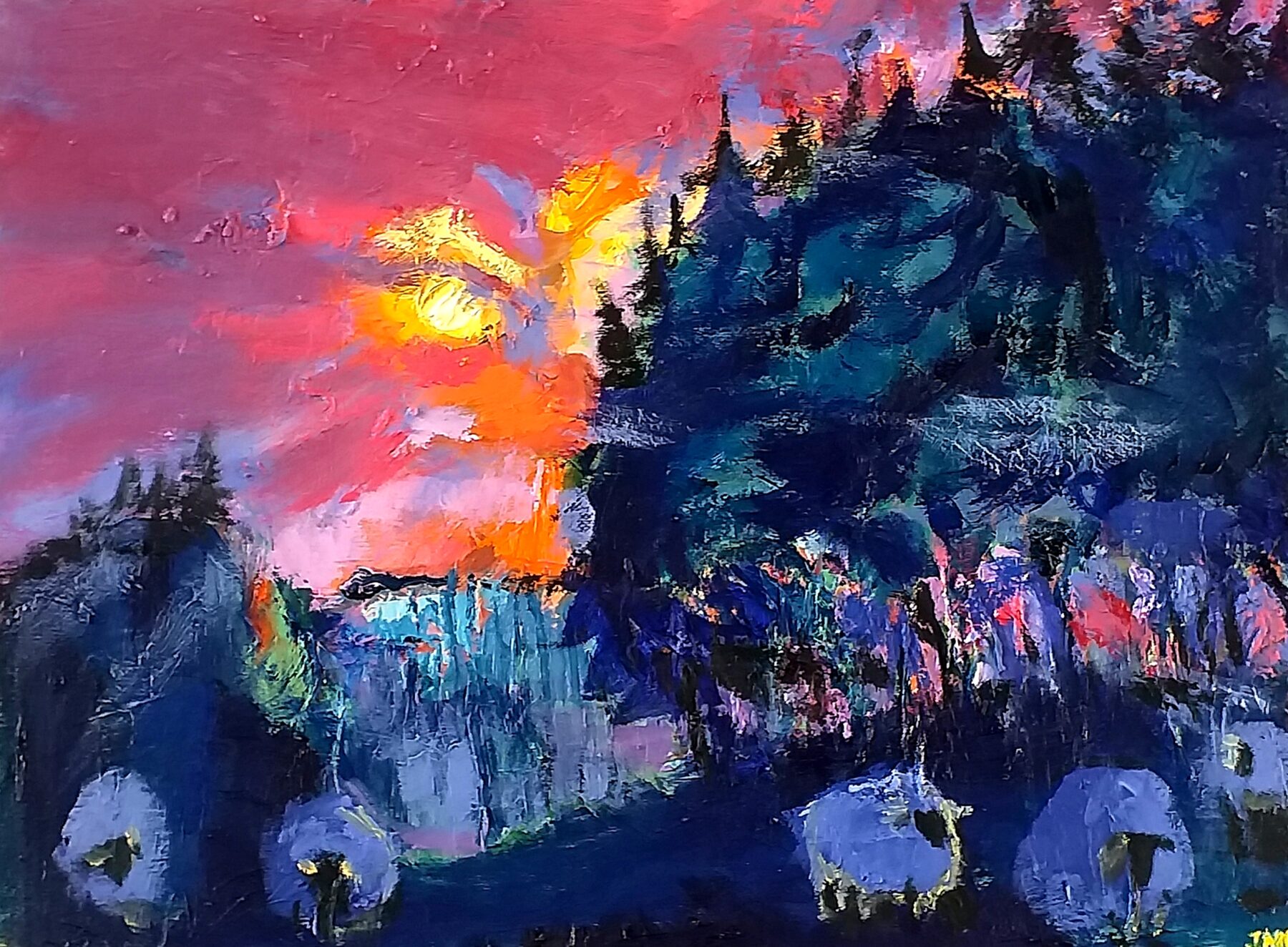 Greetings. In this yuletide newsletter you shall be visited by spirits numbering three – each one telling you about different Christmas tidings of artist John Martin Fulton. But wait, don't knock back that sherry in fright just yet. I promise this will be the swiftest of updates about my art followed only by the simplest of festive greetings. The brevity shall be my Christmas gift to you all. But I'm still a ghost – woooooooooo.
The first spectre on the scene is that of Christmas past. Let us not go too far back (no spoilers from volume one of my memoirs) but instead let's rewind to just one year ago, the old normal of 2019.
I don't want to make too light of it as 2020 and coronavirus have devastated and even extinguished many lives. I have no idea how you lovely readers and your families have been hit but I wish sincerely for the safety and wellness of you all.
When everything shut down in March, like all artists who work in the community, I had the rug pulled from under me and my projects. I then had the rug slapped about my head, my face rubbed into the dirty bits, my body pushed back indoors away from the rug and the door shut in my face. Then locked.
Luckily for me I have had my painting to focus on. And focus on it I have. As many doors have slammed shut so many others have swung open. The drafts of destiny have been blowing strong in my corridor. Which brings us to Christmas present…
This year I have work in the winter shows at two of the most renowned galleries in Scotland  – Lemond Gallery near Glasgow and The Velvet Easel near Edinburgh. Plus, some work has already sold. Hurrah!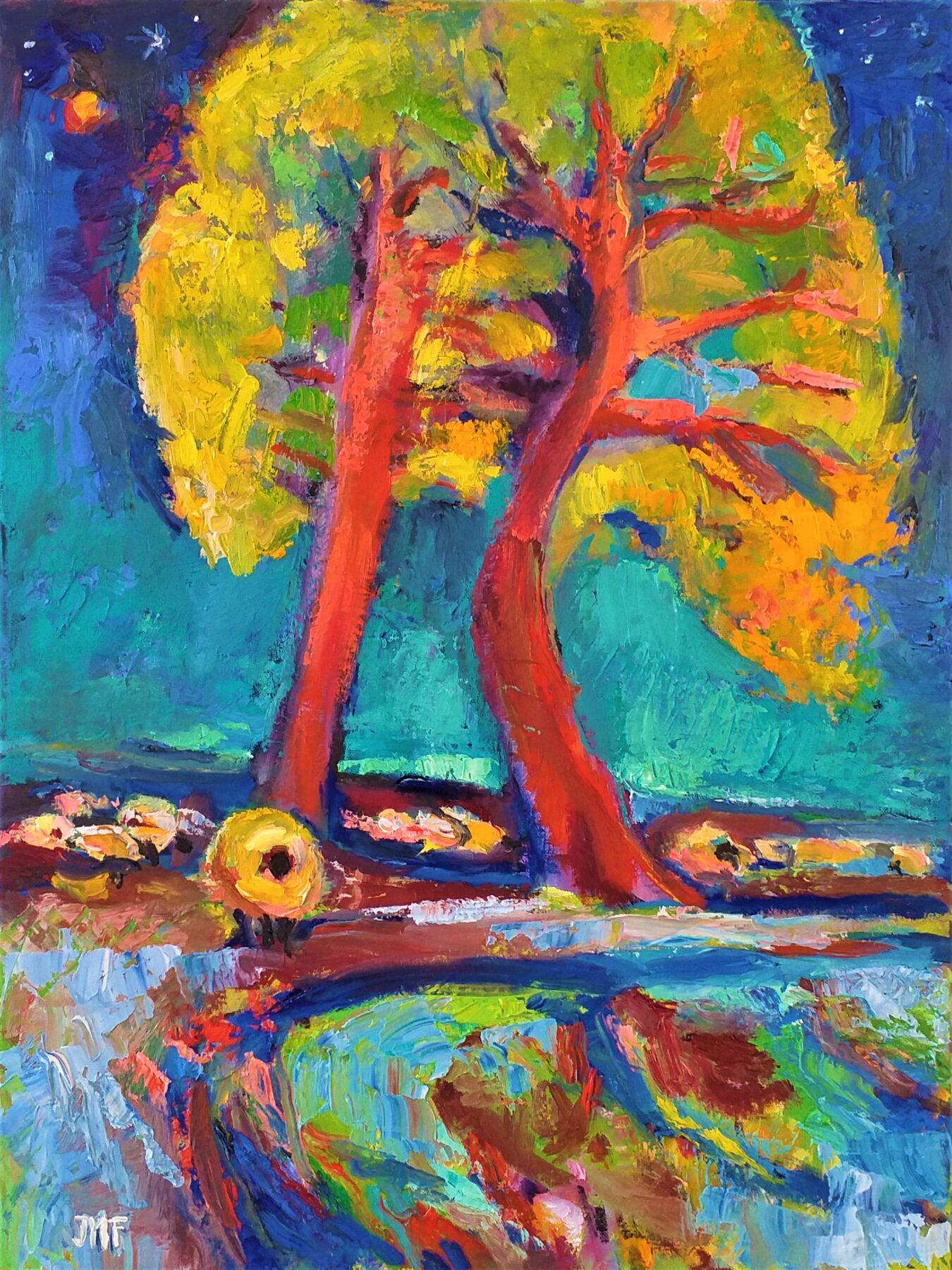 The hiatus in normality caused by this terrible pandemic has given me the time in the studio I've always dreamed of.  And I've been making the most of it. I've switched to the landscape genre that I first loved and I am now producing what I think are becoming the strongest, most confident paintings of my career. I've included some pictures. Maybe you think I have too much self esteem?
In other parts of my work I, like everyone else, have switched to Zoom. In fact I am now completely at ease on the screen and can often be found guiding groups of strangers to paint landscapes using nothing but imagination and watered-down instant coffee (you get great brown tones). In my hosting I've even been likened to media gem Chris Evans. Maybe not enough self esteem?
Which brings me to my latest hurrah. I have just been awarded some funding to bring these Zoom art groups to the community I have worked with most over the past years and which is probably my favourite – adults in recovery from drug addiction. But perhaps this news is more to do with what comes next because look! Here comes that spirit of Christmas future, riding an electric scooter, eating bread he baked himself with an exciting new life balance and a determined look in his eye.  Welcome 2021. What took you so bloody long?
When it does get here and when things get better I have many real and profound hopes for us all. But on the micro-scale of my art career I have this. To spread into even more fine galleries across Scotland (I have a thumbs up from some), to find more people to enjoy my art, and to keep surfing this current wave of exciting painting I am on.
But for now the three ghouls of Christmas will depart and leave you a changed person. After this experience you will probably go straight online and to order a turkey for Tiny Tim from Tesco home delivery. Maybe sip that sherry and see how you feel first.
In the meantime I shall say  in capital letters MERRY CHRISTMAS TO YOU ALL AND HERE'S TO A BETTER YEAR IN 2021!!
John Martin