Hello everyone. Can you feel it?  I can scarcely believe it. And yet I have definitely witnessed snowdrops daring to sprout in magical smatterings on the dank cold grass. I've seen crocuses, their colourful cousins, reach up blooming fingers of violet and gold to a warming sun. And I've charted dark nights…doing whatever you call the opposite of fare drawin' in. I'm going to call it first. Spring has sprung.
This hopeful artist feels it deeply so I am bringing to you a bouquet of happy news. In this update I'll tell you about my first growth (virtually) in Dundee, how my paintings seem to have found perfect growing conditions in the Lothians, and how my own green city of Glasgow is warming up to my art. So put on your boots and gardening gloves and join me in your latest allotment of news about my art.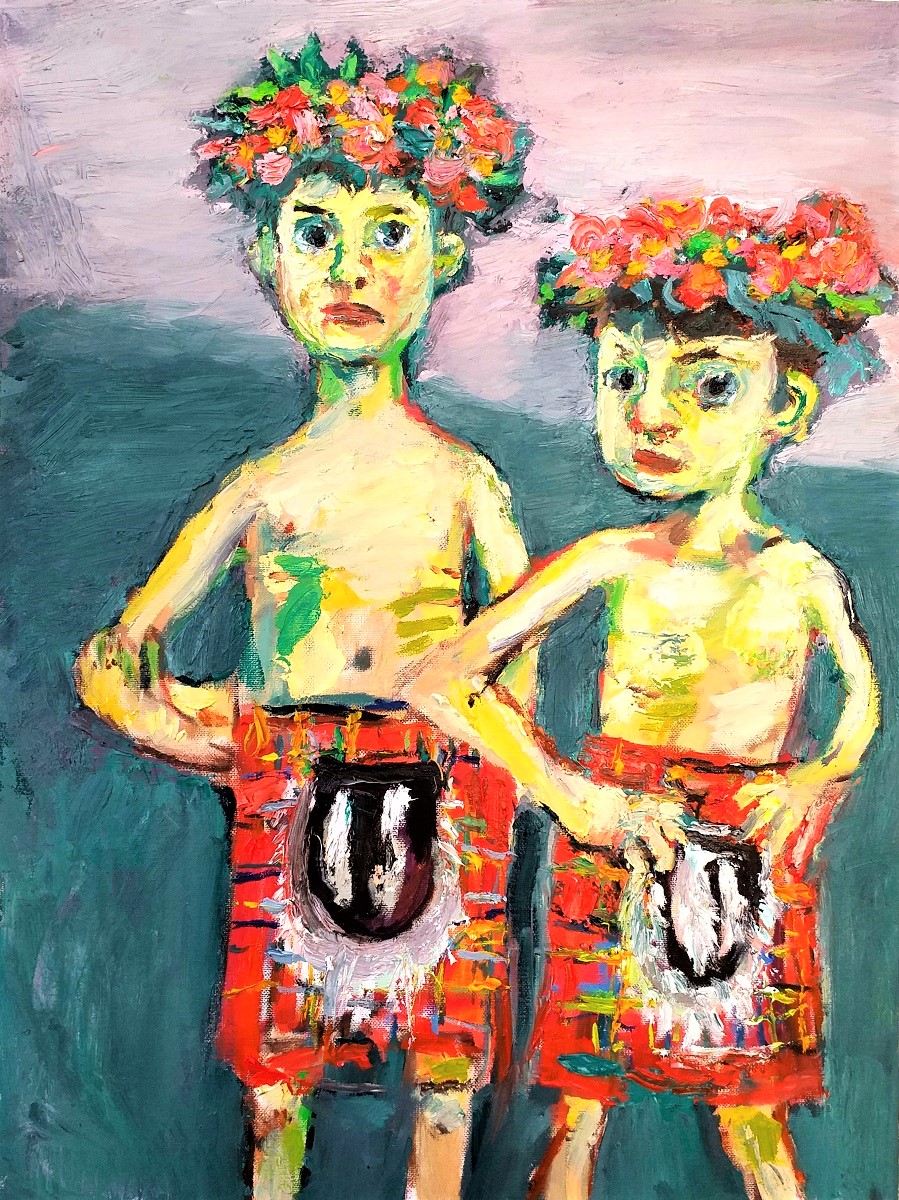 In the first patch is Dundee. It's a new frontier for me and one that I delighted about. As I really start to cultivate my career as an artist it has become clear that you really need to scatter your seeds widely to see what can grow where. It just makes sense to plant paintings in several galleries across Scotland so they can be seen by different audiences. So I was delighted to be welcomed into Gallery Q in Dundee (quite near the new V&A), where my work was shown in their winter show at the very start of the year. Because of Covid that show was online only but I'm already gearing up for more shows with them later in the year so fingers crossed those will be visited in person. I know Nicola Sturgeon reads this update so I'll leave it there.
I'm particularly excited about the upcoming figurative show there at the end of the month, where I'll be showing alongside many exciting artists all of whom paint people.
In my next patch is The Velvet Easel Gallery in Portobello where I have been enjoying some really excellent growth. I know I normally stay in the shade but good news is thin on the ground now so I'm going to boast. At that gallery I've had quite a few sales, a few  buyers vying for the same painting, people contacting me directly for prints and even a commission which (when finished) will be sent to America. The Proclaimers would be proud – maybe I'll contact them about postage. Here's a link…
In any case, I really am grateful for this fertile growing ground. And it has taught me the importance of the many wonderful people who help bring art to bloom – not just us artists. In particular I have been nourished by the support and confidence of the gallery owner Jane. But I've also worked with a picture framer called Alan, a courier named Paul, and a printmaker whose name I forget. It really is a happy valley.
Jane has shown so much enthusiasm for my art that I have even ended up in magazine print. No, nothing inappropriate, I haven't got the body confidence for that after two children. She has used my paintings to showcase her gallery's show in Art Mag! For those of you who don't know (don't feel judged) Art Mag gives details and highlights of all the art gallery shows across Scotland. It is an industry magazine for the Scottish art market. Like Floor Coverings Monthly or Lounge Wear Today that you might read, but for art.
Delivery of which brings me back to my home turf of good old Glasgow.  I have long been a fan of the art institutions that make the city such a cultural Mecca and one in particular is the RGI. Don't recognize the acronym? That's A-OK. It's the Royal Glasgow Institute and, after having joined earlier this year, I am really happy that they elected to show my work on their website shop and feature me in a 'meet the artist' on their social media. Bloomin' great.
My last sprig of happy news is a just a little sapling but one that I can't wait to flower. I received a call from a brilliant gallery in the city centre who told me they liked my new landscapes and want to meet me when government guidelines allow it. I know we are all losing the plot a bit at the moment but when I hung up the phone I literally sprang up and jumped for joy. I didn't really know I could do that.
Maybe it's the season.
All the best for now chums and hope you enjoy the coming of better weather and hopefully better days.